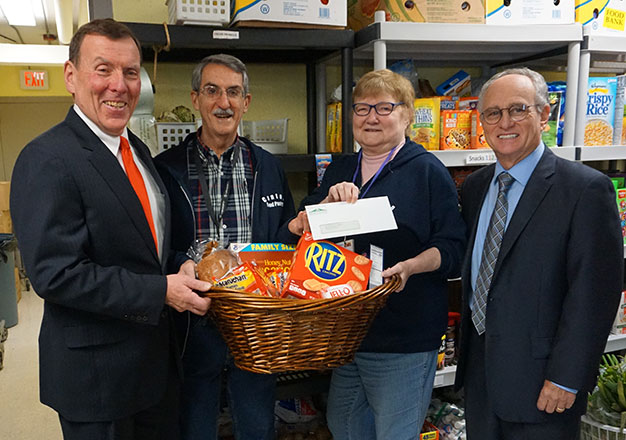 Canton Food Pantry director Mary Buckley and volunteer Bill Brown (center) receive a food donation and $10,000 check from Bank of Canton president & CEO Stephen P. Costello (left) and board member Michael Galer (right).
CANTON, Mass. (November 27, 2019) – Bank of Canton recently donated $10,000 to the Canton Food Pantry, to help provide basic necessities and healthy meals to Canton residents in need. The donation represents the annual proceeds of the bank's Town Card credit card program, plus a supplement.
"This gift will help a lot of local families this time of year," said Canton Food Pantry director Mary Buckley. "Financially, winter can be a very challenging time. There's higher heating bills, new winter clothes for growing kids, and holiday presents that some parents and grandparents struggle to afford. Bank of Canton's donation will allow more families to enjoy the season and make it special."
The majority of the donation was generated by Bank of Canton's Town Card credit card program. For every purchase and cash advance made by Town Card customers, the bank sets aside a percentage of the transaction into a charitable fund.
"Our terrific customers deserve the credit," said Stephen P. Costello, president and CEO of Bank of Canton. "By using a credit card that reinvests in the community, our Town Card customers are helping support local families and seniors."
Bank of Canton has given over $160,000 to the Canton Food Pantry since 2005. Earlier this year, the bank was recognized with a Corporate Citizenship Award from the Boston Business Journal, and a Banking Choice Award for Community Contribution.
The Canton Food Pantry, located at 960R Washington Street (in the back of the Marilyn G. Rodman Educational and Administrative Center), accepts non-perishable items on Mondays between 7:00 a.m. – 9:00 a.m. It is operated entirely by volunteers who wish to help their fellow townspeople.
Bank of Canton's branches at 557 Washington Street and 259 Turnpike Street in Canton serve as drop-off locations for Food Pantry items. During business hours, the branches accept non-perishable food, personal care items, and household products.
About Bank of Canton
Established in 1835, Bank of Canton is a Massachusetts-chartered mutual savings bank that offers its consumer, business and government banking customers access to a full array of deposit, loan, investment and convenience service options. As a mutual savings bank, the bank has no stockholders and acts exclusively in the best interests of its customers and communities. The bank lends throughout Massachusetts, and has branches in Canton, Quincy and Randolph and a mortgage center in Auburn. All deposits are fully insured between the Federal Deposit Insurance Corporation (FDIC) and the Depositors Insurance Fund (DIF). For more information, visit www.ibankcanton.com. Member FDIC. Member DIF. Equal Housing Lender. NMLS #408169.
###